products > professional > vision
PRO Vision
PRO Vision Hard Hat Brim
Stay cool and reduce sun-related fatigue with our PRO Vision hard hat visor. The hard hat visor's unique design gives clear peripheral vision and excellent neck and ear sun protection. Fits within the shoulders, providing excellent maneuverability. Bright colors with reflective trim improve safety while ensuring brim protects from the sun, rain, and snow.
UPF50+ Sun Protection
Withstands 25 mph winds
Water resistant
Quick install without adhesives or fasteners
Lightweight
Flexible yet stiff brim
Fits most standard and full brim hard hats
Designed only for use with hard hats. For three point helmets, see our PRO Tech product
Our signature PRO line was designed for the professional and offers the ultimate in durability. Made with 1000d CORDURA&reg fabric, the brim is abrasion resistant and withstands tough jobsite environments.
Bulk orders
Contact PRO Sales at (510) 400-8465 / sales@dabrimpro.com
Pictured on a hard hat. Hard hat not included.
PRO Vision Specifications
Made in USA - patents pending
Two year limited warranty
Brim Dimensions
Front - 3&frac14" (82 mm)
Left/Right - 3&frac12" (88 mm)
Rear - 3&frac34" (95 mm)
Rear drop - 2&frac34" (70 mm)
Weight - 4.9 oz (140 grams)
Product Specifications
Width - 14&frac14" (36 cm)
Length - 15&frac12" (39 cm)
Max windspeed - 25 MPH (40 KPH)
UPF50+ brim (helmet attachment crown not rated)
Water Resistant
Flexible
100% Nylon exclusive of decoration
Brim uses 1000d Cordura fabric
Underside of brim is black
Hand wash, hang to dry
Product Colors
PRO Vision Instruction Manual and Installation Video
Da Brim PRO Vision Instruction Manual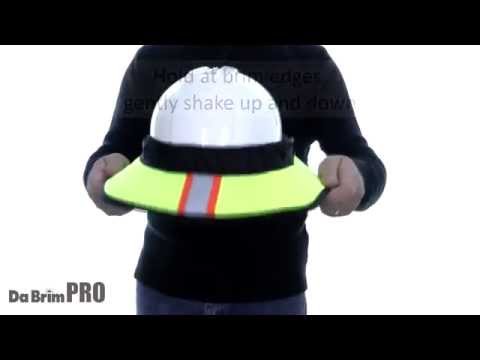 Da Brim PRO Vision Installation
Instructional video showing how to install Da Brim PRO Vision on a hard hat.